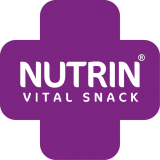 NUTRIN Vital Snack
The exceptional composition of NUTRIN Vital Snack supplementary feed supports the health and fitness of the animal.
Healthy crunchy reward with the beneficial effects of herbs and other enriching ingredients.
It does not contain added sugar, and thereby protects teeth and helps to maintain the overall fitness of the animal.
Diversification of the standard feeding portions, fun form of feeding.
No colourings, preservatives or artificial flavourings.


NUTRIN Snack
Feed for rabbits, guinea-pigs and chinchillas with Echinacea, beta-glucan, prebiotics and extra vitamins


NUTRIN Snack
Feed for parrots with Echinacea, beta-glucan, milk thistle and increased vitamin content


NUTRIN Snack
Feed for rabbits, guinea-pigs and chinchillas with vitamin C, herbs, algae and extra vitamins


NUTRIN Snack
Feed for brown rats, hamsters and mice with L-carnitine, lecithin, amino acids and extra vitamins