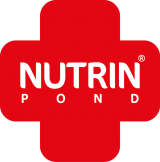 NUTRIN Pond
Range of complete easily digestible extruded feeds for cyprinids with a rich composition supporting nutrient and energy metabolism and immunity, while also strongly promoting fish vigour and healthy growth.
By linking modern production technology with a combination of ingredients with exceptional properties, highly attractive products have been achieved which force fish to actively retrieve food from the surface.
Besides ingredients promoting strong colouring, our feeds contain carotenoids which are designed to further boost this effect.


NUTRIN Pond
Complete food with extra vitamins for all types of cyprinid


NUTRIN Pond
Complete food with optimal nutrient content for all types of cyprinid


NUTRIN Pond
Complete food with optimal nutrient content for all types of cyprinid


NUTRIN Pond
Complete feed with extra vitamins for young and growing fish